In 2017, Idea Grove doubled the size of its digital marketing practice. Today, we're excited to announce that we have achieved Platinum Certified Agency Partner status with HubSpot, the world's leading digital marketing and sales platform.
HubSpot's Certified Agency Partner Tier program acknowledges agency partners who execute digital marketing services to the highest standard, while also actively engaging clients on the platform. The tiers are calculated by combining a variety of metrics, such as monthly recurring revenue (MRR), retention, software engagement and inbound marketing success.
Now, how did a boutique agency obtain one of the most prominent Hubspot agency partner tiers? It's simple: We aligned our core values with our overall business objectives to create an unstoppable team that constantly delivers for clients.
At Idea Grove, we operate on three core values:
We are idea people.
We have a high motor.
We own our stuff.
These core values, along with our passion for helping B2B technology clients win, have developed a foundation for steady, sustainable and successful expansion.
Achieving Platinum Certified Agency Partner status with HubSpot underscores our dedication to helping B2B technology companies grow, leading every engagement with energy, creativity and accountability. Employees across the agency are HubSpot-certified in areas such as marketing software, growth-driven design (GDD), CRM, inbound sales and more.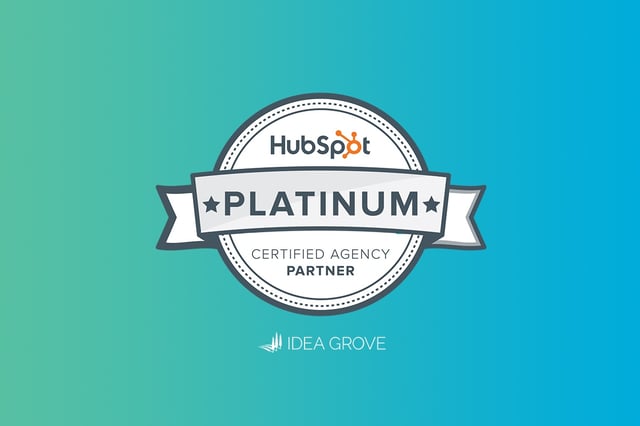 In addition to HubSpot, we're also a preferred agency partner of Sprout Social, a social media management tool created to help businesses grow their social media presence, and GaggleAMP, an online marketing engine designed to amplify social media and online marketing efforts. We also partner with Ruder Finn, one of the world's largest independent global communications and creative agencies, on global PR engagements.
Our expanding partnerships and growing digital practice has also earned us recognition in the Inc. 5000 for the third consecutive year, showing an average annual growth rate of nearly 50 percent since 2010. This includes a growth rate of more than 30 percent in 2017.
This certification is an example of our agency's expanding scope and commitment to help our clients stay on the forefront of digital marketing.
Are you ready to work with a growth agency to gain online visibility, lead generation and customer acquisition? Contact us to see how our "Idea to Outcome" platform can help your B2B tech company reach its goals in 2018.