It's 2022. You've been told to drive more traffic to your website to increase the number of inbound leads, and you've purchased HubSpot software to help.
That means it's time to conduct your first HubSpot marketing campaign. But what steps should you take to do it right?
Most client-side B2B marketers have a small team to support a growing list of marketing duties, from strategy to content creation to implementing marketing automation and aligning with sales. It's a lot to handle, and some of these efforts actually require specialized skill sets, like graphic design, coding, video production, etc.

It's virtually impossible for a handful of people on your internal marketing team to possess so many specialized skill sets or even to possess the time to manage all the many loose ends that make up a well-rounded marketing campaign in 2022.
You've taken the first step by buying HubSpot software. HubSpot lets you escape manual B2B marketing activities, like exporting lists of contacts who've opened emails and building follow-up campaigns. This sort of basic marketing task can be fully automated with marketing automation software from HubSpot, keeping you free to move on to other tasks.
But that's only the first step.
Think of it, you've got a website to manage, social media to post, audiences to develop, content to publish, reviews to aggregate, testimonials to capture, conversion rates to optimize, search terms to rank for, and so much more.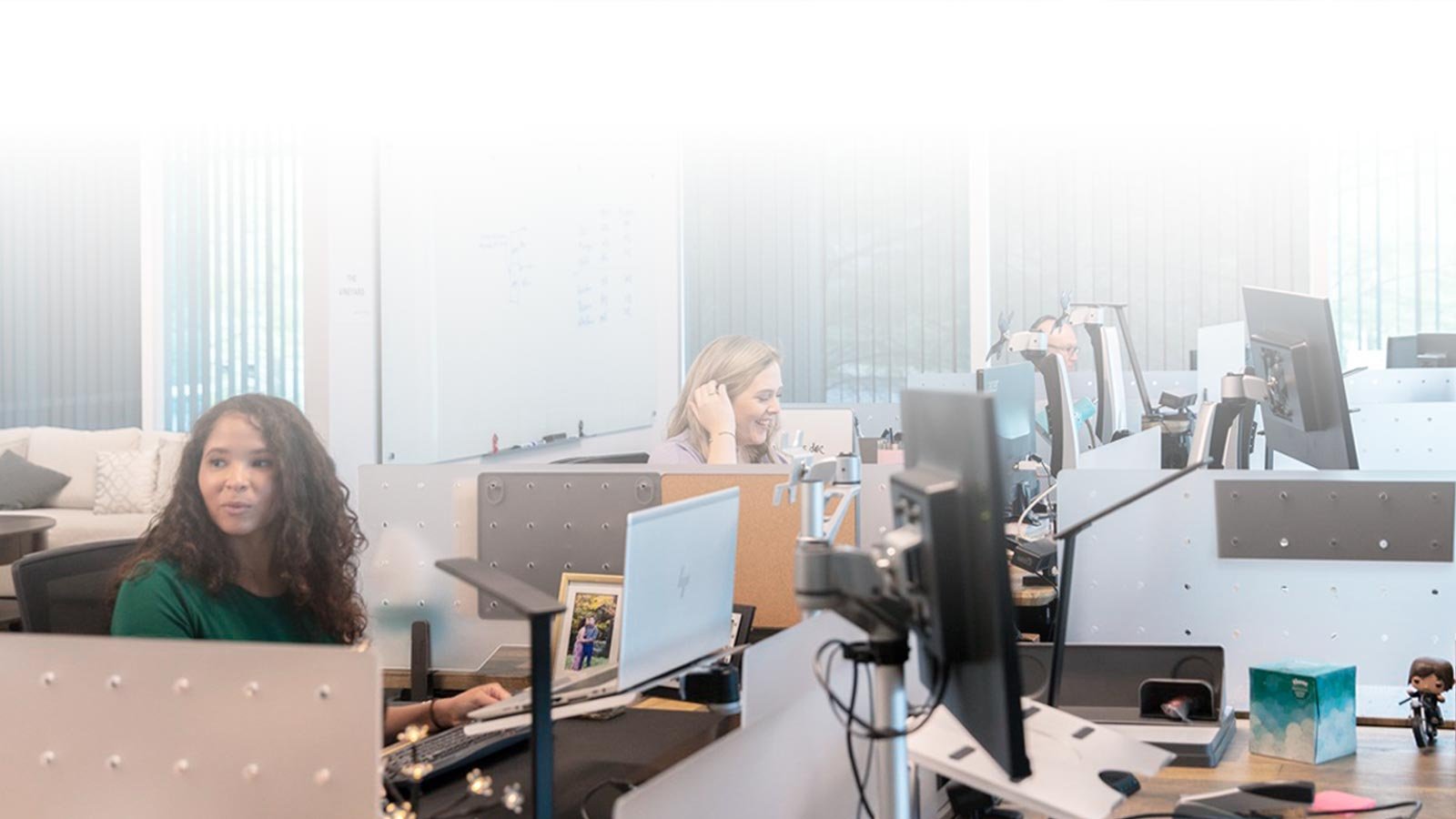 For many B2B companies, the best solution for launching your first HubSpot marketing campaign smoothly and efficiently is to work with a HubSpot partner agency. A HubSpot partner agency is a marketing firm that has an official relationship with HubSpot based on acquiring the expertise to help HubSpot customers achieve their goals.
It's true that HubSpot technical support is among the best in the world, and they'll gladly help you with any question you have the experience to know how to ask them. But for go-to market strategy, in-depth analysis and assistance with campaign execution, you'll need more help than HubSpot support can provide.
An agency partner can help you manage your time more efficiently, putting your brain and your institutional knowledge to work orchestrating marketing strategy at a high level. Ideally, you will find an agency that understands the ins and outs of inbound marketing, has ample resources to tackle problems, and has the specialists who can efficiently produce compelling content at scale.
Even if you have ace marketers on your team, odds are they don't have the specific experience with HubSpot and marketing automation tactics to produce results quickly and consistently. Having this sort of expertise at hand when your campaign isn't yet generating the results you need can be the difference between a positive EOQ and a negative one.
The Benefits of Inbound Marketing Expertise
Every agency has creative resources, produces content, manages social media, etc. Why do you specifically need to work with a HubSpot partner agency, if the traffic is all coming from outside your website anyway?
The two pillars of successful inbound marketing campaigns are automation and optimization.
Automation—referring to marketing automation tools like HubSpot—enables you to accomplish many more marketing activities than you'd ever have time to do manually
Optimization is the practice of constantly testing hypothetical improvements to your marketing assets in a cycle where you test, analyze, refine and repeat tweaks to keywords, content offers, CTAs, email subject lines, ad creative, audience sets, and all the other elements of an inbound marketing campaign.
To be an expert in marketing automation and conversion rate optimization is surprisingly not all that common of a skillset for marketers. Inbound marketing techniques are still being adopted at an increasing rate by businesses globally, meaning that many more marketers have yet to master the unique skills required for inbound marketing campaigns.
Inbound marketing vs. traditional marketing campaigns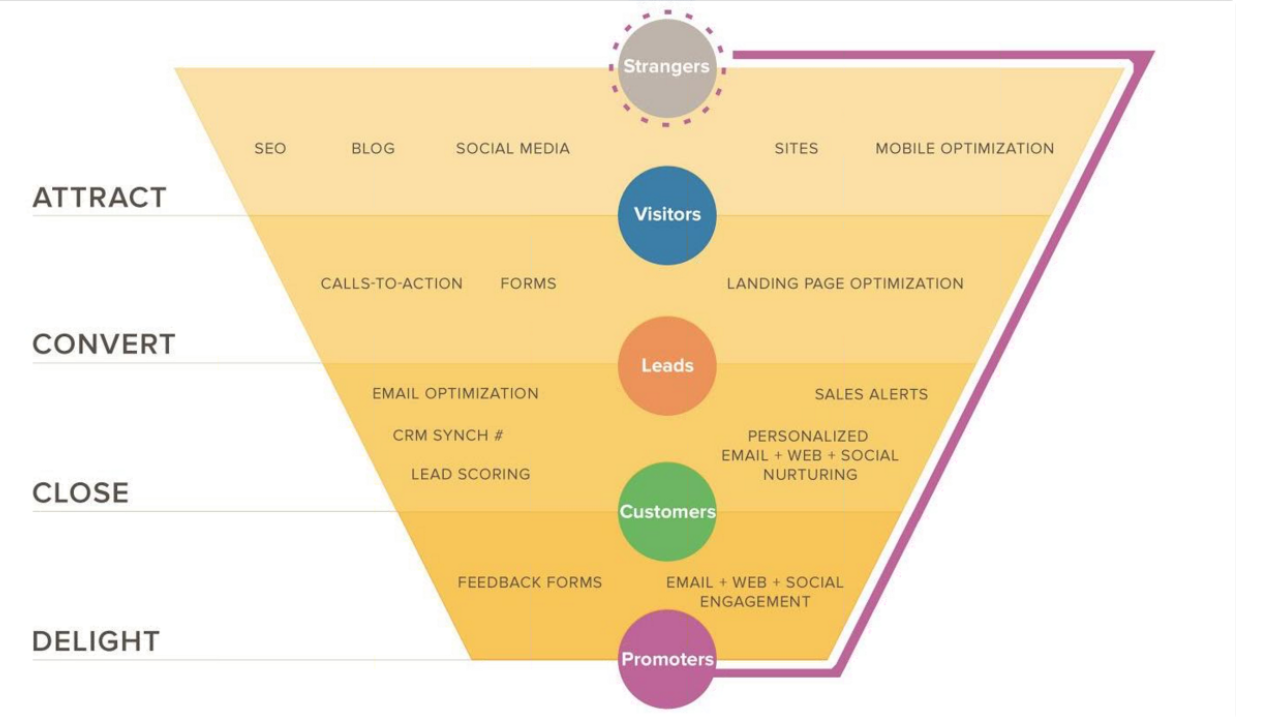 The HubSpot Inbound Marketing Sales Funnel (Source)
Traditional marketing campaigns focus on driving traffic to you with paid strategies and inbound marketing campaigns focus on attracting traffic to you organically. In practice there's often a little bit of both approaches at work, but, in the strictest sense of the definition, "inbound" refers to enticing visitors by producing the best quality content on a given subject and therefore ranking highly in Google searches for related terms.
There's more to inbound than organic search, such as leveraging social media, email marketing and so on; but in terms of driving traffic (and therefore growth), organic search is always the greatest contributing factor.
8 Keys to HubSpot Marketing Campaign Success
So the activities involved in planning and executing inbound marketing campaigns are very different from those of paid campaigns, which focus mostly on messaging, creative design and audience development. Inbound marketing focuses on the following campaign planning methodology:
1. Identify your audience
Start with the audience you want to attract. Understand who they are, what motivates them and what questions they're trying to answer in the search for a solution like yours. Those questions, and the series of decision-making steps they form together, will form the basis of your content marketing strategy, the conversion funnels on your website and the nurturing program you'll build with your marketing automation platform.

The first step of this process is developing Buyer Personas, which are simple descriptions of the most common types of buyers your business attracts that bring you the best business. There are usually a few of these personas, depending on the number of different products and services you provide and how many people are involved in making a buying decision.

For more information, see HubSpot's list of 20 questions to ask yourself and your buyers to develop robust buyer personas.

2. Set benchmarks and goals
What does success look like for this campaign? What metrics accurately describe and predict successful outcomes and how will you want to see this information visually?

When deciding on your goals, try to pick ones that matter, that really dictate success, that you can achieve and, most importantly, you can believe in. Be smart. Make SMART goals.

SMART goals are Specific, Measurable, Attainable, Relevant and Timely.

This type of approach to goal-setting results in a clear set of metrics on which you can judge the success of your inbound marketing campaign and be able to optimize and improve it along the way.
There are plenty of good guides on this topic, but here's a great article on how to create SMART goals to get you started.
3. Choose keywords and optimize for search
Since inbound marketing is most concerned with organic traffic from search, you can imagine the importance of keyword research and search engine optimization.

Suffice it to say, you need to spend significant time determining what people are searching for that might drive them to your business with the intent to spend their money. That process is a bit tedious and complex, but, in the simplest terms possible, it looks like this:
4. Create a campaign, tracking url and CTAs
Once you have buyers personas, SMART goals and content assets, you're ready to start putting the pieces of your inbound marketing campaign together.
But first, you'll need some way to track your progress in a convenient, centralized location.
Good thing HubSpot provides an easy-to-use tool for this specific purpose. The Campaign tool is a straightforward way to tie all the assets you have dedicated to this inbound marketing campaign together so you can report on their combined traffic, contacts and leads.
You can find the tool in your Marketing Hub dashboard under Marketing >> Planning and Strategy >> Campaigns.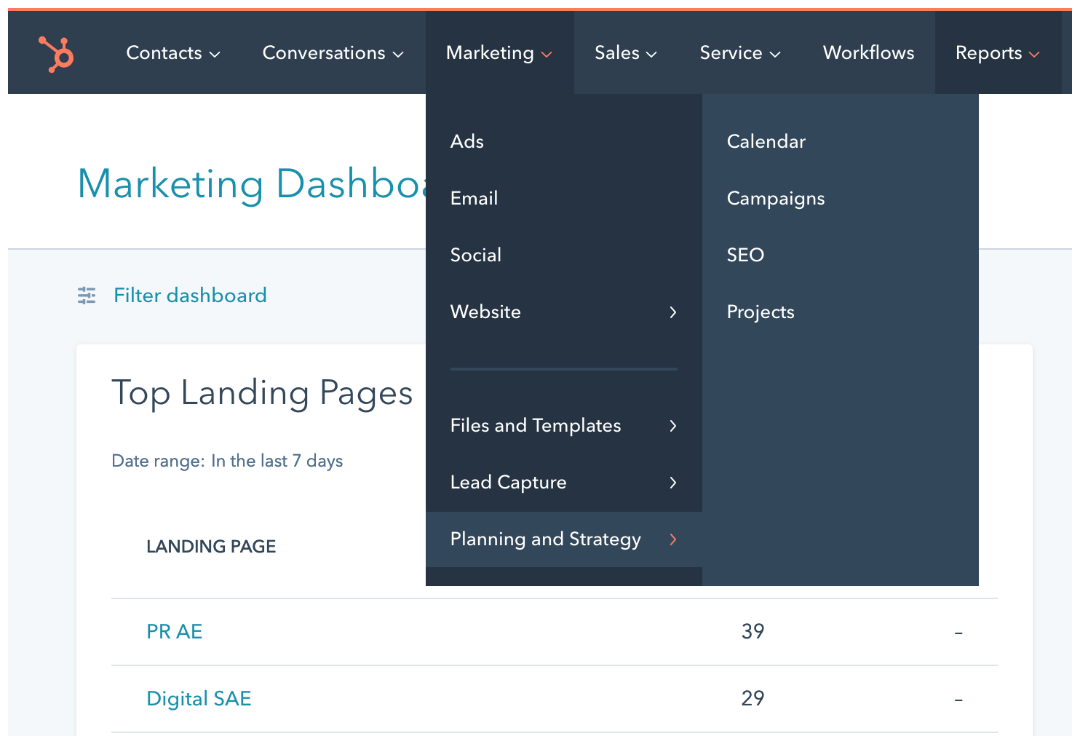 Once your campaign has been created, associate your content assets, blog posts, forms, etc with the "Add Assets" button.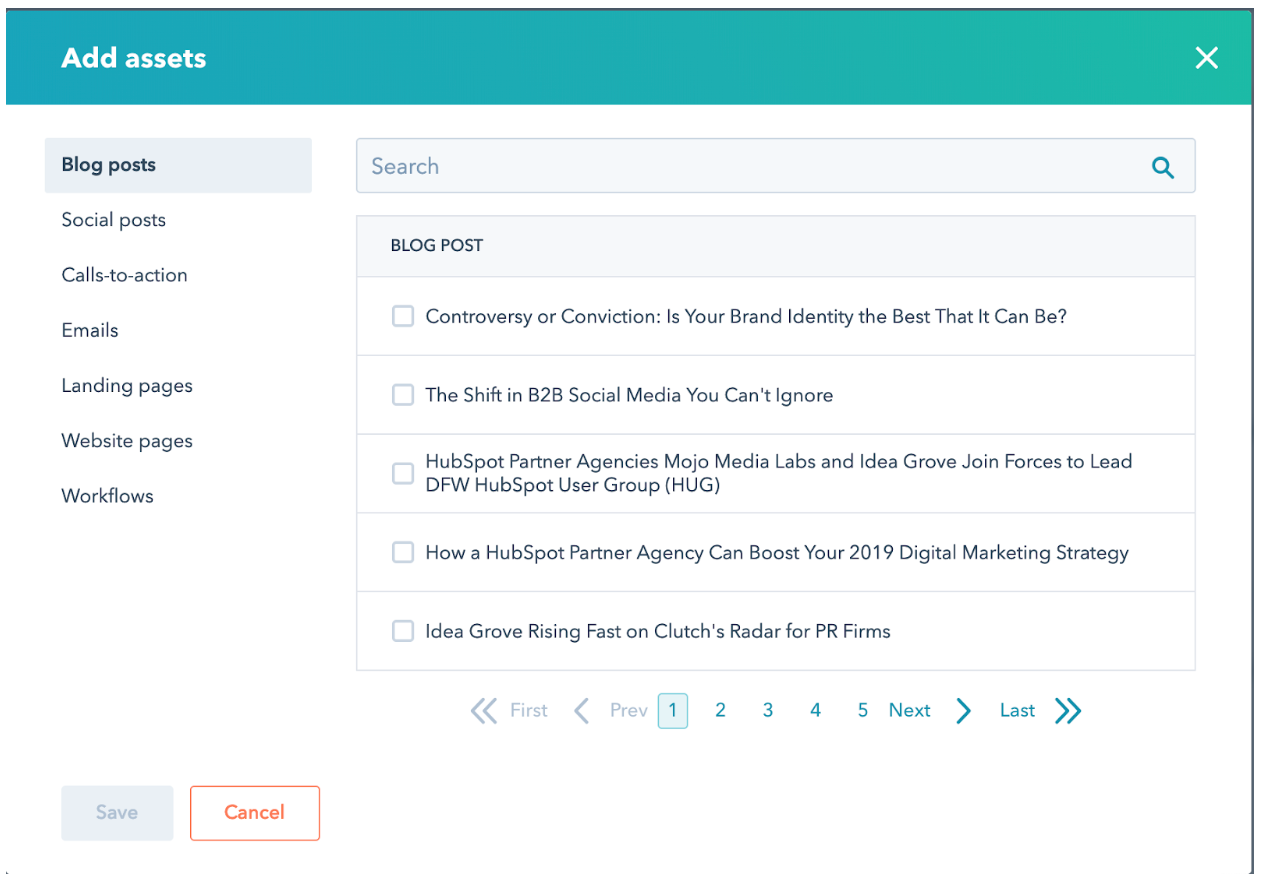 Just check the assets you want to track in this campaign and save. Then finish your campaign by adding tracking URLs for each channel you plan on using to promote your campaign. Go to Reports >> Analytics Tools and click "Tracking URL Builder" at the bottom of the page.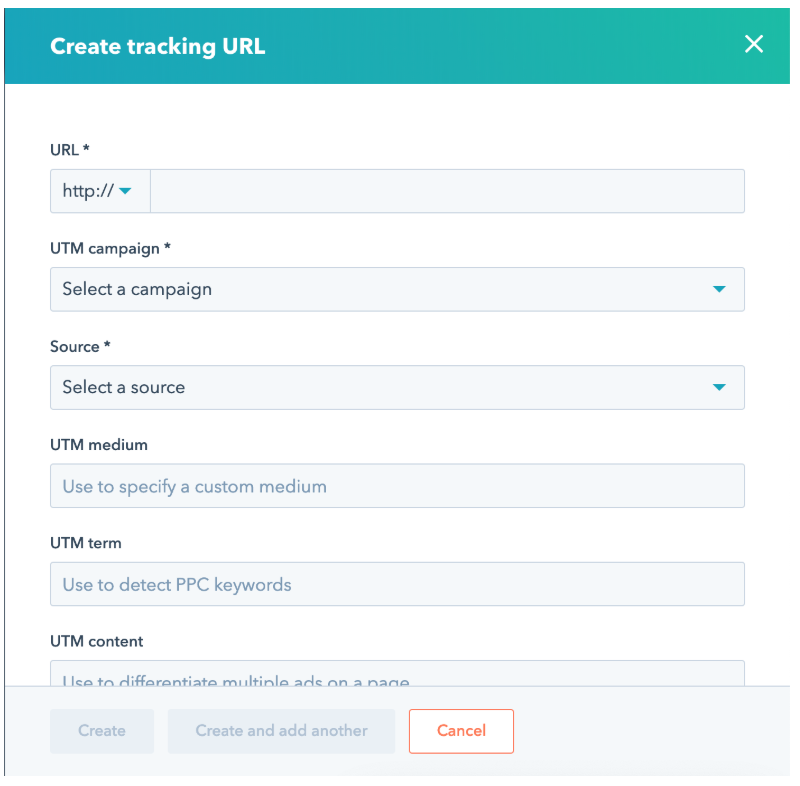 5. Develop content offers and landing pages for each persona and connect to your blog/pillar content with CTAs
Before anyone is going to become a lead to pursue and nurture, you're going to first need to attract their attention and entice them to share their email address so you have a way to stay in touch with them.
The key to getting someone to hand over their email address is offering something that they value more than not receiving another email in their inbox.
What's worth the hassle of dealing with more email? A free answer to one of your biggest problems.
Create a piece of content that answers a big question for your prospects. And don't cut corners and try to promote yourself at this point. It'll backfire, and you won't get the conversions you want anyway. Just give your expertise freely and let your prospects really sink their teeth into the bait.
Once they've offered up their email address in exchange for your trade secret, you'll have everything you need to stay in touch with them until they buy or decide to move on.
For inspiration on what types of content offers and incentives work well for inbound marketing campaigns, read this article from HubSpot.
6. Choose your promotion channels and get the word out
Having a ton of great content and not having anyone reading it isn't a great feeling. You want your hard work to be appreciated, so it's important that a distribution strategy be a well-developed part of your B2B content marketing strategy.

The good news is you've got a lot of options. The bad news is, well, you've got a lot of options.

Determining which channels effectively reach the audience you're targeting is complex and beyond the scope of this article, but, here are a few ideas you'd be crazy not to consider:

Email your blog subscribers. (You are subscribing people to your blog right?)
Write related blog posts featuring strategically selected keywords.
Share content on your social media channels.
Create ads on social networks targeting look-a-likes of your customers.
Create ads on programmatic networks targeting look-a-likes of your customers.
Create Google Ads targeting strategically selected keywords.
7. Nurture leads generated through your offers
Once you start to convert contacts from your content offers, the next step is to fill their inbox and social feed (through retargeting) with more of your helpful content that reinforces the need for your product, the benefits they'll receive and creates a sense of urgency about taking action.

Create automated drip campaigns with HubSpot workflows out of a series of blog posts that answer progressively more detailed questions that prospects would typically ask during an average buying process. Mix it up with videos, worksheets, checklists, helpful guides, stat sheets, etc. to diversify your approach and keep prospects interested throughout their journey.

As leads continue to engage with your content, leverage the power of HubSpot workflows to add context to their journey that helps your sales teams and even triggers outreach based on lifecycle stage updates.

For example, if you award points for various activities (reading blogs, downloading assets, requesting more information, etc.) you can set benchmarks for activity that, once passed, trigger prospects to be marked as marketing qualified leads and sent to sales.

This not only automates a tedious marketing activity, but it fundamentally aligns sales and marketing to the same goals and ensures that each potential opportunity is identified, qualified and acted on quickly. Once everyone on your team, either from marketing or sales, can see the sales pipeline with full transparency, the excuses turn into actions and actions in to revenues.

For a deep dive into best practices, read this innovative new approach to lead nurturing with HubSpot.
8. Report on your results
Finally, after all your hard work, you cross your fingers and hope it all worked out, right?

No, of course not. You track your campaigns so you can monitor the results in real-time, reviewing weekly and monthly reports and making optimizations along the way.

HubSpot's reporting tools are excellent for helping you quickly analyze all your many data points, grouping and filtering them where necessary, and tying them to live dashboards for at-a-glance campaign management.

And that's great. But there are times when you need to tell a story with your reporting, particularly to managers and stakeholders. For more advanced reporting needs, I highly recommend taking a look at Databox, a robust SaaS platform for building real-time business analytics dashboards through API integrations with all your favorite marketing channels like Facebook, HubSpot, AdWords, and so on.
Here is an example of a real-time Databox dashboard: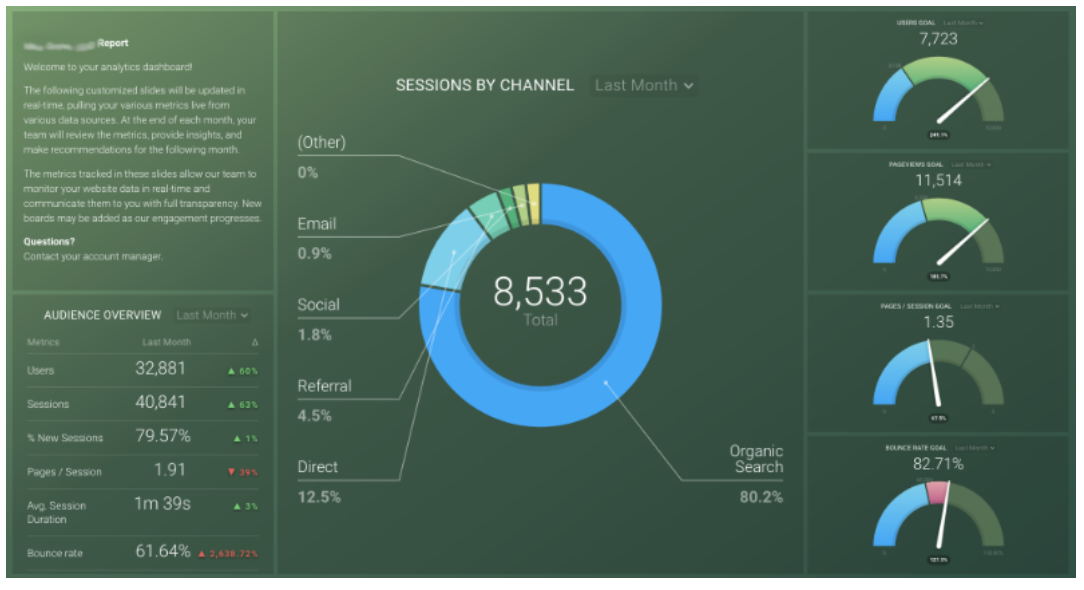 Once you've determined that inbound marketing is a priority, you've got to evaluate your marketing team and assess its strengths and efficiencies.
Can your team spend hours carefully strategizing keywords, reviewing analytics and producing the massive quantity of fresh content that it takes to stay relevant in search?
Or are you going to have plenty of other things for your staff to do developing your messaging and campaign strategy, producing internal assets and aligning with your sales team?
If your business is like most organizations, there's enough to do internally to move the business forward to warrant bringing on a certified HubSpot partner agency to support the work your team is doing, extend their capabilities and provide expert counsel.
If you evaluate your business and find that you'd like to learn more about working with a Platinum HubSpot partner agency like Idea Grove, please reach out for a free HubSpot audit and consultation.
Our HubSpot experts will review your portal and offer recommendations on ways to improve your inbound marketing ROI—free of charge. From there you can decide the best plan forward for your organization, and we're here to support you when you need it.