If you've been keeping an eye on your email performance and have noticed some sendability issues, the problem might not be your email subject lines but rather the health of your CRM.
We use the term CRM (Customer Relationship Management) to refer to the database of contacts that your business engages with, usually managed with tools like HubSpot or Salesforce. But for most marketers, your CRM probably also includes leads, job applicants, employees, vendors, and even competitors. It's the central place where all the information about your contacts lives, making it an important piece of your sales and marketing toolkit.
You may have a CRM with anywhere from a few hundred to hundreds of thousands of contacts depending on the size of your business. But here's the kicker—marketing databases decay at a rate of 23% per year. The best thing to do to combat database decay, or the gradual loss of the quality of data within a system, is to have a healthy flow of inbound leads, but there are a few things you can do with your existing contacts to keep your database healthy.
Maintain A List of Unengaged Contacts
What's an "unengaged contact"? Best practice is to define an unengaged contact as one that doesn't ever open your emails, or, if they do, they don't click even if they have opted in to receive email from you. This is sometimes referred to as Graymail—email you have technically opted in to receive but don't really want. So it's not quite spam, but it's definitely spam-adjacent. Over time, ISPs learn what users consider graymail based on their actions and the actions of all recipients across email sent from that domain. This means continuing to email unengaged contacts can hurt your deliverability in the long run.
Keeping an active list of unengaged contacts (say, those that have not opened the last 10 or more marketing emails you have sent them) makes it easy to see what percentage of your CRM contacts really want to hear from you. From there, consider our next best practice and invite them to update their email preferences...
Leverage Re-engagment and Opt In Campaigns
At least once a year, send an email to your entire database (I mean the entire database) inviting them to update their email preferences. This is not only a great opportunity to maintain your data privacy compliance but also to be creative about reminding your contacts who you are and how you can provide valuable information. If those previously unengaged contacts do not respond to any of your efforts to re-engage, it's time to say goodbye. It can be hard to delete contacts you worked hard or spent resources to get in front of, but don't get hung up on removing contacts. Instead, focus on creating remarkable content that generates new, engaged opportunities.
If you have different types of email subscriptions (a newsletter or blog subscription notifications, for example), be sure to manage those accordingly and keep your CRM segmented so these audiences are clearly defined. Sending a newsletter or marketing email to someone that is just subscribed to your blog can cause that contact to lose trust and will be hesitant to engage further or share more information with you.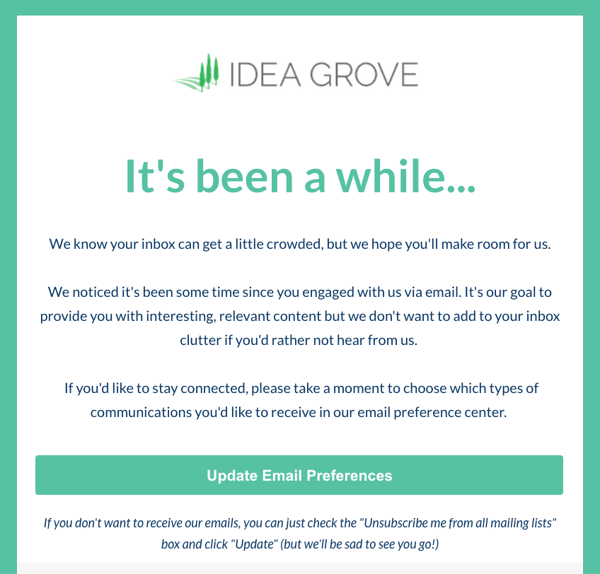 Respect the Inbox
Proactively managing your CRM alongside the inbound methodology means you are dedicated to providing relevant and valuable content to your contacts. By ensuring you're compliant with data privacy best practices (GDPR is a great place to start, even if it's not a matter of legality in the US...yet) and tailoring content so that it's valuable to your audiences, you will go a long way preventing unsubscribes and spam reports that contribute to data decay.
Why is it important to proactively manage CRM decay? For one, continually sending emails with high bounces, spam reports, and unsubscribes can hurt your domain's deliverability over time, causing your emails to land in junk folders far and wide. It's not only bothersome to engage with contacts that might not want to hear from you, it can violate data privacy laws and result in consequences beyond relegation to the junk folder. But mainly, if you aren't proactive about maintaining your CRM you can't market effectively.