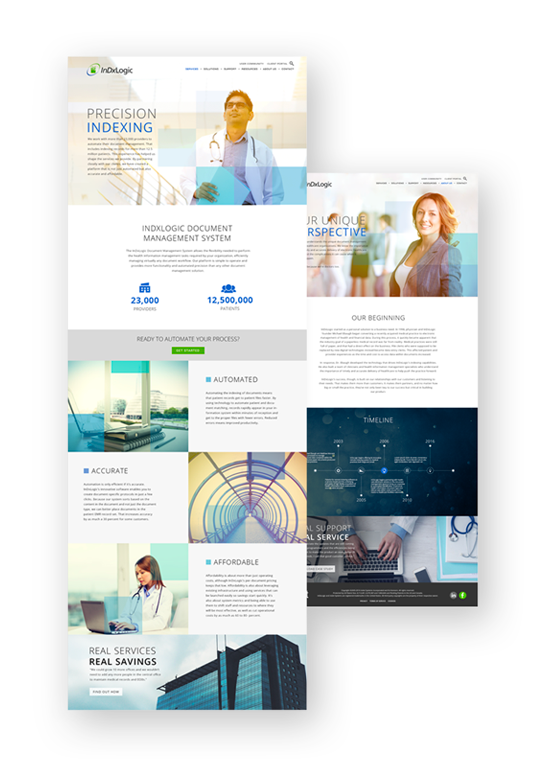 The Solution: Buyer Research Leads to Pinpoint Messaging And Purposeful Design
After in-depth research of InDxLogic's industry and competitors, we interviewed actual buyers to pinpoint why prospects chose InDxLogic over the bigger players. The research revealed an important distinction that the company had long taken for granted: it was founded by doctors. None of their competitors could say that. And none could brag about the personalized service that buyers told us was so important. Stories of the personal relationships InDxLogic's team formed with its clients would ultimately define and differentiate the company's new messaging.

The reason many of InDxLogic's competitors lacked personal stories is because they were some of the biggest names in business process outsourcing, and, visually, they looked like it. If InDxLogic was going to compete in the same market, it needed a complete visual rebrand that would allow the company to go toe to toe with anyone—while at the same time showcasing its unique personal touch. The new look includes a modified logo, a modern typeface and a streamlined color palette that is flexible enough to work both on the web and in print and display collateral.

InDxLogic's new site needed more than dynamic visuals and a differentiated message. It needed to help the company generate leads when its team was away from the trade show floor. Referring back to our conversations with their buyers, we knew that by highlighting great customer case studies prominently throughout the site we could do that. Not only did these stories prove that working with InDxLogic was a great experience, it showed that the company could deliver on its promises. And by putting those case studies behind a form, InDxLogic was able to collect the leads that it wanted.