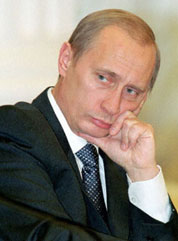 From the London Times:

The leading Kremlin spin-doctor rebuffed Western critics yesterday with a robust defence of President Putin's democratic credentials in the run-up to the G8 summit in St Petersburg.

Vladislav Surkov, in an unprecedented meeting with foreign reporters, dismissed charges that Russia should not be a member, let alone the president, of the G8 because of its recent moves to curb democracy. Mr Surkov, widely regarded as Russia's second most powerful man, rejected the term "managed democracy", which is often used to describe the highly centralised, and often authoritarian, political system that he has crafted as deputy head of the administration.

"Our democratic model is called 'sovereign democracy'," said Mr Surkov, a college dropout and PR expert, who joined the Kremlin in 1998 ... "As far as a possible emerging national ideology are concerned, I think they are unlikely to differ drastically from the common European values."

Mr Surkov's sudden emergence into the spotlight is part of a Kremlin campaign to buff its image before the G8 summit, with the help of Ketchum, an American public relations company. It provided a rare insight into the ideology behind the Kremlin's drive to reassert central control over parliament, national media and strategic industries...
Let's take a moment to imagine the brainstorming session where Ketchum's gurus might have come up with the term "sovereign democracy":
"OK, gang, we want a name that sounds democratic without sounding too democratic. Whatcha got?"
"Um, parliamentary dictatorship?"
"No -- idiot."
"Nationalist oligarchy?"
"No, no ... We need something that will sound friendly to the U.S. -- you know, the Fox News crowd, middle America."
"I got it! Fair-and-balanced democracy!"
"Nice try. C'mon, this is a brand, people. Think buzzwords, taglines -- think outside the box!"
"Just Rule It!"
"OK, try putting one foot back in the box. Perkins, you've just joined us from our technology practice. Do you have any ideas?"
"Yeah, here are a few:
Russia's turnkey, end-to-end democracy solution...
State-of-the-art, best-of-breed democracy...
Consumer-generated democracy..."
"You need a little more time to get acclimated. Does anyone have a decent idea? Linderman, you've been a little quiet in the corner of the room..."
"Yes, I've been thinking about Putin's market position. He's really created a highly managed, nationalist democracy -- if you can call it a democracy at all. But 'managed democracy' doesn't work because it sounds watered down, and 'nationalist democracy' doesn't work because 'nationalist' is scary to people.
So -- instead of 'nationalist,' which sounds aggressive, why don't we call it 'sovereign democracy'? It means the same thing but sounds less threatening. In other words, Russia is only trying to protect its 'sovereignty' from outside interests."
"Linderman, that just might work. Focus-group it and get back to me -- asap."
Technorati tags: PR, Public Relations, Russia