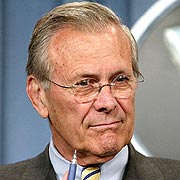 Rumsfeld outlines new media strategy for war on terror.
Excerpt:
US Defense Secretary Donald Rumsfeld announced sweeping plans to fight the war on terror in the media with information campaigns that target Internet blogs as well as traditional news outlets. Rumsfeld outlined his vision for a radical overhaul in the way the US military communicates with the public in a speech to the Council on Foreign Relations.

He contrasted the government's plodding approach to news to al-Qaeda's supposed skill in media manipulation...

He defended the military's paying to plant stories in the Iraqi press and complained that the ensuing controversy was stifling innovation ... Rumsfeld said the program, which was first disclosed by a US newspaper in December, used "non-traditional means to provide accurate information to the Iraqi people in the face of the aggressive campaign of disinformation."

He said the critical press coverage had a "chilling effect" on military public affairs.

Rumsfeld said the US government must develop the ability to anticipate and act within the same news cycle. "That will require instituting 24-hour press operation centers, elevating Internet operations and other channels of communications to the equal status of traditional 20th century press relations," he said.

"It will result in much less reliance on the traditional print press, just as publics of the US and the world are relying less on newspapers as their principal source of information," he said.
Innovation is good.
Blog relations is good.
Paying to plant stories? Not so good.
Forget any ethical concerns; let's look at this from a practical perspective.
Consider your local paper. If you knew that a company or government entity was paying to have a story placed in the Daily Gazette, you'd probably be less likely to believe what you read, wouldn't you?
Same deal over there.
In fact, in a country like Iraq, where people are used to having the government control the media, the temptation might be to think, "Meet the new boss, same as the old boss."
It's the freedom of the press version of Abu Ghraib. We shouldn't go there.
(Via Edelman's Steve Rubel)
Technorati tags: Journalism, PR, Public Relations, Propaganda